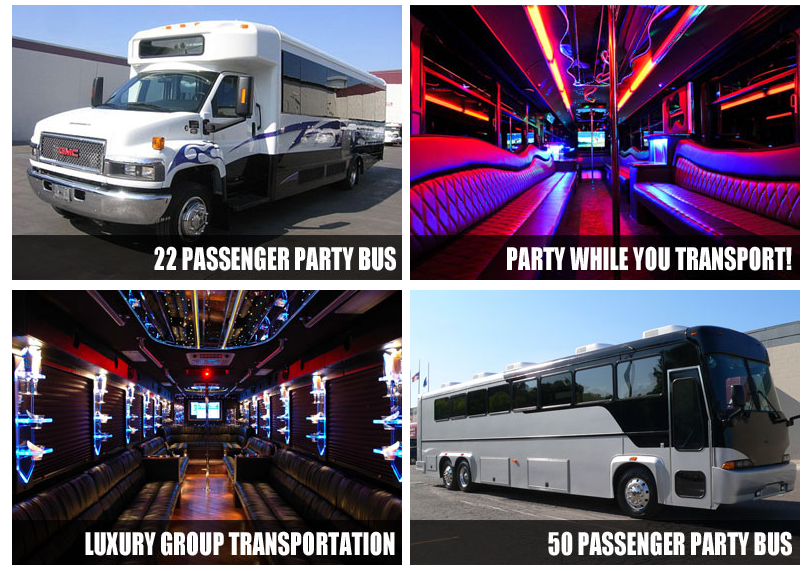 Get ready to celebrate in style with Party Bus Rental Dallas. Get you group together and prepare to travel throughout Dallas County, TX as you celebrate a birthday, night on the town, sweet sixteen, homecoming and more. Book one of our party buses now and make it a fun memorable outing for everyone! Contact 214-206-9269.

Party Bus Rental Dallas can get a quote within a few seconds on any of our vehicles for hire. Whether you are looking for an 18 passenger, 22-40 passenger, or 40-50 passenger charter bus in Dallas. With any of our Dallas party buses you can count on us to provide you with a variety of vehicles to select from.

If you are looking for a one way trip, four hour rental, or even a ten hour rental our Dallas party bus service can provide you with the right vehicle you need to celebrate in style. Check out our limo service in Dallas!
So you're looking for party bus rental in Dallas, Texas? Well, you've come to the right place! We offer party buses of all shapes and sizes. Whether it's a night out on the town with your friends or prom transportation, we have something that is sure to fit your needs. Party buses are a great way to get from point A to point B with style! We offer special pricing for our vehicles and do everything that we can to make sure you are getting an excellent deal.
Party Bus Rental Dallas
Make a reservation for a Dallas party bus rental for you and your party as you get ready to head out for a special occasion. If you are making plans to travel on a family trip around the city head out to Dallas Museum of Art, the Greek Food Festival of Dallas, or the State Fair of Texas. Everyone can ride comfortably inside the leather interior seating and surround sound system as we make our arrival to your destination. Party Bus Rental Dallas provides you with a variety of different vehicle passenger sizes to help you select the right one for your occasion. Check out our 18 passenger Dallas party bus great for weddings, birthday, bachelor party, or sporting events. Make plans to head out to a Dallas Mavericks or Dallas Stars game at the American Airlines Center as you check out your favorite basketball and hockey team make a push to the playoffs. Have your soon to be bride arrive with her family to the ceremony and not worry about anybody stepping on the dress as she makes her way in.
Party Bus Rental Dallas Texas is a service that takes great pride in providing clients with the best, safest party bus experience possible. No matter what your budget or needs are, we guarantee that we have a bus to suit you and all of your guests. Are you ready to find out more about our services? If so, contact us today and speak to one of our customer representatives.
Our Party Bus Rental Dallas Texas as well as Party Bus Rental Dallas TX service can take you around the city and beyond! We have party buses available for all occasions, from bachelor parties and bachelorette parties to tailgate parties and birthdays! All of our buses come equipped with:
• Leather seats
• High quality stereo systems with MP3/iPod connectivity
• Flat screen TVs with DVD players
These are just a few of the amenities that make our buses some of the best in the entire state! You deserve nothing short of extraordinary on your big day, so check out our limo rental Dallas today!
Party Bus Dallas
Party Bus Rental Dallas Texas is a great way to enjoy your special occasion. Party Bus Rental Dallas Texas has all the amenities of a luxury vehicle and can be enjoyed by you and your friends. Party Bus Rental Dallas Texas will allow you to experience the city in style with all the amenities of a luxury car.
Ride in our 22 passenger party bus and have everyone get ready before the start of the Red River Shootout with Texas and Oklahoma getting ready to get on the field and play some football during the State Fair in Texas. Enjoy the pregame show with the large LCD screen located in the vehicle as you hear the analysis and hopefully a good prediction for your favorite team. Get everyone together as we take you to a birthday, bachelor party, bachelorette party, or divorce party. Make your way to Lizard Lounge, Curtain Club, Club BLISS, Ghost Bar, and more. We are your designated driver for the evening as you and your friends make your way through some of the hottest clubs around. Do not worry about having to get someone to drive after a fun night of drinking our Dallas party buses are the perfect transportation solution for a fun night on the town. Contact us today for more information on our rentals 214-206-9269. Get ready to make your way to Cowboys Stadium to check out the Dallas Cowboys or even head out to Ranger Stadium in Arlington and check out the contending Texas Rangers. Ride in our 40 passenger Dallas coach bus and get the group together so you may head out to tailgate before the start of the game. Enjoy the large LCD screen and watch the pregame show before the start of the game and enjoy the highlights and possibly the afternoon game as we provide you with a ride back to your destination. With our surround sound system you can plug-in your MP3/IPOD player and listen to your own custom music. Have your wedding party travel from the ceremony to the reception without having to worry about anyone getting lost or in an accident. Everyone can ride comfortably in the Dallas charter bus and even stand up and walk around and move to another seat.
Dallas Airport Charter Bus Service
Get everyone ready to fly out of Dallas/Fort Worth International Airport and celebrate in style in any of our Dallas party bus services. Get ready to begin your vacation in style as we provide you with airport charter bus service in Dallas, TX. Have us pick you up early and take you to the Dallas/Fort Worth Airport so you can get through the process at the ticket counter and security check point. Party Bus Rental Dallas can even provide you and your party a ride from the airport to the hotel or straight to your home. Don't rely on multiple cabs and friends to provide you with transportation to Dallas/Fort Worth Airport our vehicles can have everyone sitting together and comfortably within our spacious leather interior seating.
Dallas Airport Charter Bus Service
If you need a charter bus from Dallas airport, why not get the best? The best Dallas airport charter bus service is what you can expect when you choose Party Bus Rental. We specialize in providing professional transportation for all kinds of occasions and events, including special trips to and from DFW Airport. Our fleet of luxury limo buses can accommodate both large and small groups for a fraction of the cost of many of our competitors!
So what are you waiting for? Call us now to reserve your next trip with the best Dallas airport charter bus service around!
Dallas Party Bus Service
Our Dallas party bus service provides you with a variety of different charter buses to selection from. We provide you with the right vehicle to fit the number of passengers you need for your occasion. From a wedding, night on the town, sporting event, corporate event, and more. You can make plans to reserve a Dallas party bus rental as you head out to check the Dallas Cowboys, Texas Rangers, or Dallas Mavericks. Select from our 18 passenger, 22 passenger, and 40 passenger coach buses in Dallas, TX. Party Bus Rental Dallas can get a quote within seconds on any of our vehicles for hire. A party bus in Dallas can be suitable for any occasion you may be celebrating whether it is with friends or family. More limos and party buses can be found here: Irving party bus rentals or Party bus Garland.
Dallas Charter Bus Service:
Are you looking for a reliable charter bus rental service in Dallas, TX? Well, you have definitely come to the right place. Our company is one of the top-rated charter bus companies in Dallas, Texas and has been in business for years now. We have served thousands of satisfied customers over the years ranging from small groups like school children to large event organizers. With us, you get a safe and comfortable travel experience at affordable prices.Whether your are planning a trip with your classmates or organizing an event for your employees, we can help! Give us a call today!
We specialize in luxury party buses that can carry up to 50 passengers at once. The inside of our party buses look more like nightclubs than buses! Not only do they feature plush leather seats but also contain colorful LED lights, dance poles and booming sound systems as well. They are perfect for bachelor/bachelorette parties or prom nights for teens! Call us today and rent yours!
Looking to cruise around the city with style? Then what you need is a limousine rental from our company. We provide some of the finest limousines at affordable prices along with dedicated chauffeurs who know every nook and corner of this city by heart. Whether it is an airport transfer or a ride around town, give us a call today and let our experts take care of everything else!
Limousine Rental Dallas, TX
When you want the best Limousine Rental Dallas, TX has to offer, come to us. Our diverse fleet of limousines include a stretch Lincoln Town Car with seating for 8 passengers, and our ultra-luxurious Mercedes Sprinters that seat up to 15 passengers.