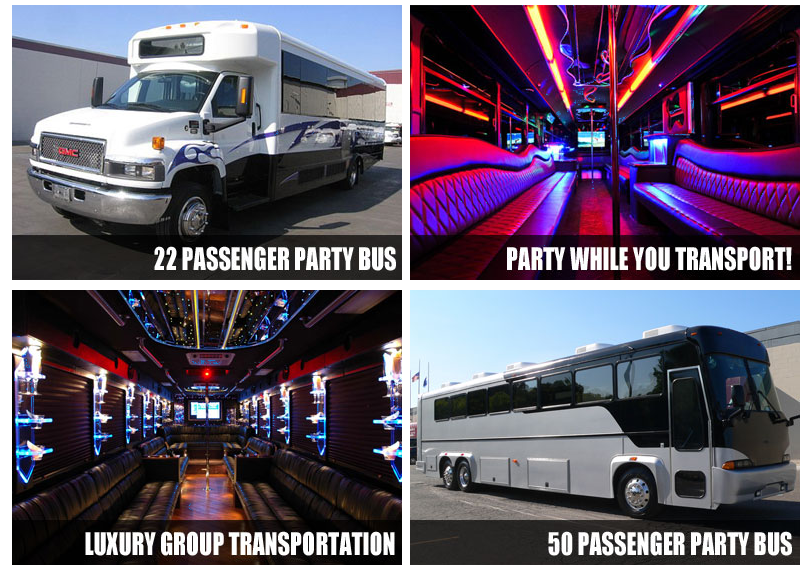 Check out Party Bus Garland, TX as you plan on celebrating with your friends and family anywhere around Dallas County. Whether it is a sporting event, bar crawling, bachelor party, or wedding we have the right vehicle for you. Get a quote now for any of our limousines, party buses, or charter coach rentals. Call 214-206-9269.
Party buses are a great way to transport large groups of people that are attending the same event together. A party bus provides a means of transportation to a specific destination while allowing people to celebrate onboard the bus. A party bus is similar to a limo and is often referred to as a limousine-style party bus. Sometimes the term 'party coach' or 'party van' will be used for smaller versions of this type of vehicle. The concept is basically the same: It provides transportation for large groups and entertainment is available on board.
In addition, there may be special areas set aside for lounging or dancing, depending on which features you choose with your rental company. Many party buses have leather upholstery, wet bars, and flat screen televisions that can be hooked up to DVD players and video game consoles etc in some cases, you may even have access to internet capabilities if you pay extra for it but these options will vary according to what type of model you rent and how much money you want to spend.

You can select from a variety of vehicles for hire that best fit your needs such as our 18 passenger, 22 passenger, or 40 passenger buses. With our company you can choose the right vehicle that provides the most comfortable use. You can choose to make your reservation for a one way trip, four hour rental, or twelve hour rental. You might also want to look at the rates for our Garland Limousines.

We offer you top notch and unbelievable party buses to meet all your travel and transportation needs. We have the top of the line party bus rentals for weddings, prom nights, bachelor/parties, music concert events, sports events or even corporate events.
Wedding Transportation
Bacehlor – Bachelorette Parties
Quinceanera
Prom & Homecoming Dances
Sweet 16
Anniversaries
Birthdays
Kids Party

Airport Limo
Sporting Event
Concert
Ride to Hotel
Airport Car Service
Chauffeur Service
Private Car – Corporate
Sedan Hire
Why Party Bus Garland TX?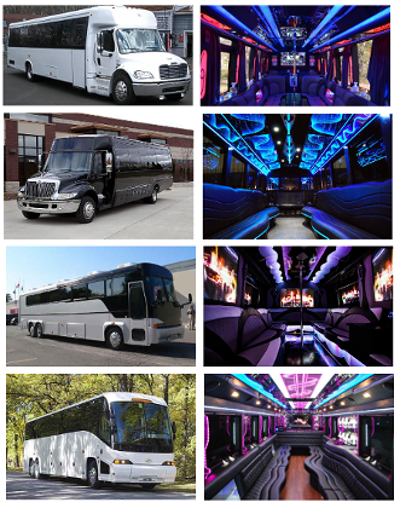 Get your reservation ready for a party bus rental as everyone gets to ride and make a miniature party within the vehicle as we arrive to your destination. If you make plans to travel and with a larger group than usual we can provide you with transportation service to Historic Downtown Garland, Patty Granville Arts Center, and Hawaiian Falls.
Sit in our comfortable leather interior seating and plug in the MP3/IPOD and listen to your own custom playlist. Party Bus Garland provides you with a variety of different vehicles to help you find the right one for your celebration. Our 18 passenger party bus is great for sporting events, weddings, or divorce parties. View the Dallas Cowboys or Dallas Mavericks play their regular season games as they make a push for the playoffs.
Book you rental now, before someone else does, call 214-206-9269.
You will never complain about the quality and the quantity of service that you get from our party bus rental drivers and customer service staff. Our drivers are experienced and professional with clean driving records and know how to handle all travel needs of the clients. Just give us a call to out toll free reservation number to book the vehicle that you want. You can chat with our sales staff and gather more information about the facilities, charges and the offers on party buses. Booking in advance will give you chances to get the bus you desire.
There are many reasons why party bus garland tx is the best in TX and in general. For example, some of the things that make Party Bus Garland TX stand out include:
A large fleet of party buses and limos
chauffeurs
Being on time always
Reserve a Garland Party Bus Rental
Our 22 passenger party bus can provide you with even more space as we take you to the State Fair in Texas for the Red River Shootout between Texas and Oklahoma in the Cotton Bowl. Watch some of the pregame show before the start of the game on the large LCD screen and then make your way into the stadium.
From a birthday, bachelorette party, night on the town, and bar crawling you can find yourself at Far West, ORb Nightclub, Lizard Lounge, and more. Our chauffeur service is your designated chauffeur for the evening so you do not have to worry about driving home and getting a ticket or getting in an accident. Our party buses provide you with the right solution for your night on the town.
Garland Party Bus is your #1 source for party bus transportation in Garland Texas! Rent a party bus for any occasion! We have party buses that can accommodate anywhere from 14 to 50 passengers. If you are looking for a short trip, we have affordable options to fit any budget. Our party buses vary in style and amenities, so please give us a call today to learn more!
10 Passengers
14 Passengers
18 Passengers
20 Passengers
30 Passengers
40 Passengers
45 Passengers
50 Passengers
55 Passengers

Party Buses
Shuttle Buses
Minibuses
Sprinter Van Rentals
Charter Buses
Motor Coaches
Airport Transportation
Sprinter Transfers
Seaport Transportation
Check out our larger 40 passenger Garland charter bus which is great for corporate events, weddings, sweet sixteen, sporting events, and prom. A large LCD screen in which you watch a game or a movie and sit back and enjoy the ride as we make our way to your destination whether it is in Garland or the Dallas/Fort Worth area. Have your wedding party get on board and take you to where you need to go.
If you are going to transport from a wedding to a reception have us provide you and your party with a ride to your destination. Our surround sound system makes it easy to listen to the radio or plug-in your MP3/IPOD player and listen to your playlist. Stand up and move around the vehicle as we make it to your destination.
Booking a Garland Texas party bus is easy. You can use the form on the right. Or you can call us and one of our reps will be glad to assist you with a quote, date availability and any other questions you may have about your trip to Garland.
Things to do with Party Bus Garland
Garland is a large city that is located in the Northeast of Dallas in Texas State. There are many tourist attractions waiting to be explored. So, hire our rides and visit some of the most happening places like:
Dark Hour Haunted House; enjoy the wonderful world of zombies and have great fun in the haunted house.
Lake Flying Saucer; enjoy some of the best tasting beer in this fun place with your friends.
Duck Creek Golf Course; this is a very good golf course to try your golf skills.
Hawaiian Falls Garland Waterpark; this water themed park offers great fun for your kids.
Garland, Texas is a great place to visit. There are tons of great burgers and barbecue places, a vibrant nightlife scene, and lots of fun activities.
When you're in town and looking for things to do in Garland Texas, consider checking out one of the following:
The Dallas Arboretum
Fun City Arcade & Sports Bar
Recreation Center Park at Holford Park
Skateland Roller Rink
The Plaza Theatre Company (and other nearby theaters)
Safari Run Garland TX
Party Bus Prices
We offer the best services with the reviews to back it. You need not worry about breaking your bank by hiring our services as we offer transportation services in luxury at the most affordable rates. We compare all local companies to provide you with the best prices.
If you're looking for the best party bus prices in Garland Texas, look no further! At Party Bus Garland TX we pride ourselves on offering the most competitive rates in the industry.
How much does it cost to rent a party bus in Garland TX? The answer is – it depends! It depends largely on which size vehicle you choose to rent and what time of year you're looking to book.
Browse our fleet of party buses and limo buses below. Keep scrolling down afterwards to see some sample pricing or click here for detailed pricing info.
Garland Airport Charter Bus Service
The international airports close to the city are: Dallas Love Field and Dallas/Fort Worth International airport. We offer the best airport transportation to and fro airports at any time of the day or night.
Get ready to make your way to the airport with your friends or family as you get ready to head out of Texas to another destination. Our company provides you with transportation to Dallas/Fort Worth International Airport.
Make it an early arrival and get and make your way through the ticket counter and security check point so you do not have to arrive late to the gate. Our party buses can surprise you and your family with a ride to the hotel or a ride home once you have arrived after a long flight.
Don't you worry about having to call multiple cabs or a few friends to provide you with a ride, our vehicles have the space you need to get everyone in and sitting comfortable on the leather interior seating.
Garland Party Bus Service
The Garland party bus service provides you with a variety of charter buses to select from when making plans. With the correct vehicle to fit the number of passengers you will need for a wedding, airport transfer, night on the town, sporting event, and more.
Make plans that will have your party riding in the right Garland party bus rental as you check your favorite team and celebrate with those closest to you. Select from our 18 passenger, 22 passenger, and 40 passenger coach buses in Garland, TX. Price for Limo can provide you with a quote within seconds on any of our vehicles for hire. Any party bus in Garland can will be ready to have you celebrate with your friends and family as you make it a fun and entertaining experience.
If you need more options, have a look at our party bus rentals in Lancaster and DeSoto party buses.