Party Bus Rentals Dallas Texas. You've been searching for Party Bus Rentals Dallas Texas and here you are. All our vehicles are state of the art with all the amenities to make your next special event a fun and memorable one. Give us a call today to reserve your party bus or limousine from us here at Plaza Party Bus & Limo Rentals.
If you want something different, then there's no better option than the party bus rentals that we offer here in Dallas, TX. When you rent one of our party buses, you choose from a huge selection of different styles and sizes to accommodate your needs. Whether it's an intimate bachelor or bachelorette party, or a massive concert outing with over 100 of your closest friends, we have the capacity to provide what you need!
Dallas Party Bus – 14 Passengers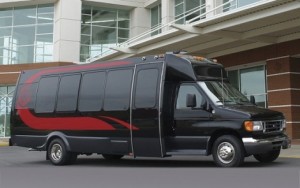 If you are going out for a night on the town anywhere in Texas, then this bus is the perfect choice for you. Get the party started before you even step foot in the club! You will be sure to enjoy your night to the fullest with this spacious and exhilarating bus that comes with amazing surround sound, CD/DVD player, mp3 player connectivity, wet bars, and fiber optic lighting that will be sure to get you and your friends pumped up for the club. Make a reservation now: (214) 206-9269.
When you are planning a large group outing with your friends and family, the 14-passenger party bus rental in Dallas Texas is an excellent choice. The 14-passenger party bus is the perfect fit for weddings, bachelor parties, bachelorette parties and more. There's plenty of room in this luxury limo bus to walk around, dance and enjoy each other's company while traveling to the destination of your choice. You don't have to worry about parking at all when using a party bus rental; our chauffeur handles all transportation duties so that you can relax and enjoy yourself without having to stress about driving or finding a parking space.
This particular model includes several options for entertainment: leather interior, flat screen TVS with DVD player capabilities and an iPod hookup that allows you to stream your favorite music playlist through the vehicle speakers. There's even a hardwood floor in some of our models – this is what makes it easy for everyone in your group to get up on their feet and dance while they travel! Some units also include strobe lights, disco lights or laser lighting as well as bar areas equipped with cup holders so that everyone can keep their drinks nice and safe during transit.
The 14-passenger party bus will seat up to 14 passengers comfortably on leather seating; there will be plenty of room for all of the people who are invited on your trip without anyone feeling cramped or crowded.

---
Dallas Party Bus – 22 Passenger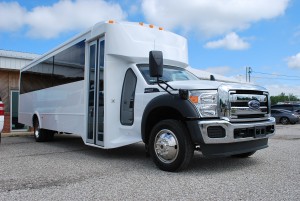 If our smaller bus isn't going to cut it in size, then this one may be a great choice for your night out. This bus offers the same additions as our other buses but with that extra space which can make your night an even better one. Flat screen televisions, mp3 player hookup, wet bars, AM/FM radio, and comfortable leather seating is only the tip of the iceberg when it comes to naming the additions that this luxurious bus comes with! Call now to book this party bus (214) 206-9269.
If you're looking for an affordable way to travel with a large group of friends, this is it. Dallas Party Bus – 22 Passenger has some great amenities that are sure to make your night out in Dallas a blast. We can take you anywhere in the city and beyond. Seating up to 22 passengers, this party bus has plush leather seating, a stereo and iPod hookups so you can plug in your own music. It also offers LED lights and a large flat screen TV along with a DVD player, while the karaoke machine will keep everyone entertained as you travel around Dallas together.
This classy limo bus is perfect for any occasion—birthdays, concerts or even just a night out on the town!

---
Dallas Party Bus – 30 Passenger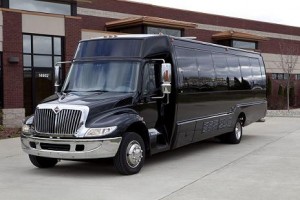 Is the big game day coming up and do you want to make it the best day of your life? It is pretty easy to accomplish that with this amazing party bus. Tailgate in the most stylish way you can ever imagine with this spacious vehicle. You will be sure to have a great time with all of the things this bus comes with such as CD/DVD players, HD/LCD televisions, wet bars, and you can even hook up your own music to jam out in this bus! Reserve this 30 passenger party bus now, call (214) 206-9269.
Are you planning an upcoming event and looking for the ideal transportation to drive around with your group? Choose from our fleet of party buses in Dallas TX. The 30 passenger party bus is one of our most requested vehicles in Dallas, Texas. The 30 passenger party bus has a minimum requirement of 6 hours for booking it for your event.
The party bus has seating for up to 30 people and has a capacity of 40 passengers. The bar area can hold ice, water, beer soda or mixers. Our experienced chauffeurs know the city well and will get you to your destination without any issues! There are three separate bars (two on the lower level and one on the upper level) that are fully stocked with soft drinks (cups provided). If bottled water is desired, ice will have to be supplied by the customer as there is no ice machine on board. We also have roomier options available if you need more space or want a few extra seats such as the 35 passenger limo bus or even our 36-40 Passenger Party Buses!
---
Dallas Party Bus – 40 Passenger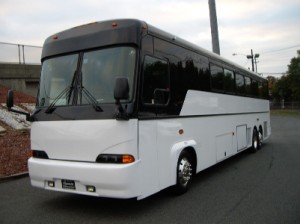 This luxurious limo bus is great for any and all events. Take a ride with this bus out on your bachelor or bachelorette party and really get the party started! In addition to the spacious seating this bus offers there are plenty of other additions such as wet bars, booming surround sound, LCD TVs, MP3 player hookup, and much more! Don't wait to reserve this luxurious bus for your next big outing! Call us today for a free quote, (214) 206-9269!
The Dallas Party Bus – 40 Passenger has a spacious interior, with plenty of seating for everyone. This Dallas party bus rental also has room for dancing, so you can let your hair down and get your groove on. The Dallas Party Bus – 40 Passenger is big enough to accommodate forty passengers, and it's full-size so that you have ample space to move around while dancing. It has comfortable leather seats as well as a cool jukebox system that plays the latest hits.
The Dallas Party Bus – 40 Passenger is in the heart of downtown, taking you right to many hot spots in the city. If you're looking for the hottest nightlife spot in town, go no further than the most epic party bus rental company in Dallas.

---
Dallas Party Bus – 45 Passenger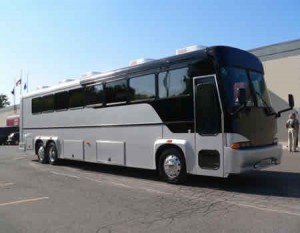 This huge 45 passenger bus is a sure-fire way to make your next group outing an exciting one! Bring along all of your friends and family to experience this one of a kind party bus that comes with some extraordinary additions that will bring excitement to your day out such as: AM/FM radio, fiber optic lighting, restrooms, wet bars, HD TVs, hardwood flooring, CD/DVD player, and much much more! This party bus is a real crowd pleaser. Book this bus now (214) 206-9269. *Also available as a Charter Bus for corporate trips.
From our early days, we have been offering luxury party bus rentals in Dallas Texas. Our 45 passenger bus is a perfect example of the type of vehicles that we offer. If you are looking for a party bus rental Dallas please take a look at the photos below and give us a call to rent it. This vehicle is great for weddings, birthdays and corporate event shuttles. With plush leather seating, TVs, DVD player, CD player and fiber optic lighting your guests will want to keep riding all night long!
The bars are equipped with ice bins, coolers and glassware so drinks will stay cold all night long. There is lots of luggage space along with climate control making this ideal for touring the city.

---
Dallas Party Bus – 50 Passenger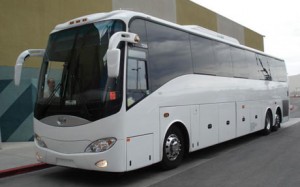 If you are looking for a larger bus to transport up to 50 passengers, then this party bus is right up your alley. This monster sized vehicle is perfect for any large group traveling that you may need in Texas. It comes with a large variety of amenities such as LCD/HD TVs, wet bars, surround sound, MP3/iPod connectivity, and the most comfortable leather seating you will experience. You will be sure to have the time of your life when you book this bus. Reserve this bus now, call (214) 206-9269. *Also available as a Charter Bus for corporate trips.
Are you thinking about renting a 50 passenger party bus in Dallas, Texas? Well you've come to the right place. Our company is well known for providing high quality party buses, limousines and shuttles at an affordable price. We are a local owned family business that serves all of Dallas/Fort Worth and surrounding cities. Please call us today to learn more about our 50 passenger party bus rental options.
How much does it cost to rent a 50 passenger party bus in Dallas, Texas?
The cost to rent a 50 passenger party bus in Dallas, Texas will vary based on the date, time and destination of your event. To get an accurate quote we need some basic information about your event such as date, time of pick-up/drop-off, pick up location(s) and drop off location(s). If there is no return trip back then we just need the date and time of drop off location. Then we can provide you with an accurate quote for a 50 passenger party bus rental from our company.

10 Passenger
14 Passenger
18 Passenger
20 Passenger
30 Passenger
40 Passenger
45 Passenger
50 Passenger
55 Passenger

Party Bus
Shuttle Bus
Minibus
Van Rental
Charter Bus
Motor Coach
Airport Transportation
Luxury Transfers
Seaport Transportation

Wedding Transporation
Anniversaries
Bacehlor
Bachelorette
Proms
Homecoming
Birthdays
Kids Party

Transportation to Airport
Airport Bus Service
Chauffeur Service
Private Car Service
Sporting Event
Concert
Hotel
Corporate Sedan Hire
Limo Bus Rentals Dallas Texas
Limo Bus Rentals Dallas Texas is the best way to celebrate your special day in style. We provide our customers with the highest quality service and atmosphere, complete with a friendly staff who truly care about their passengers. Our party buses are spacious, clean, and well-kept – ensuring that your experience will be nothing less than perfect! Limo bus rental Dallas Texas also offers chauffeured luxury vehicles for weddings or any other special occasion! You can choose from our fleet of party buses or limousines to ensure that your guests have an unforgettable time at their next big event.
Dallas Texas Party Buses Near Me
Have you ever considered celebrating an event in Texas? Maybe you are headed to the Lone Star State for a business trip, family reunion, or wedding. Dallas is an excellent city for celebrating almost any occasion. Dallas is the largest city in Texas and the fourth most populous city in the country. It's no surprise that visitors enjoy traveling to Dallas for its fantastic weather, lively nightlife, and vibrant art and culture scene. Yet sometimes visiting a new city can feel overwhelming as you try to navigate your way around and find enjoyable attractions, restaurants, and bars. When you rent a party bus from Party Bus Rentals Dallas Texas it's easy to leave the work up to us so that you can sit back and relax while enjoying all that The Big D has to offer! Use us for the best Dallas Texas Party Buses Near Me!
Large party bus and limo coach rental
Party Bus Rentals Dallas Texas is the best option for a large group of friends that plan on having fun and staying safe. If you and your friends are going to be drinking, it's best to have a designated driver. With Party Bus Rentals Dallas Texas, you can have your own party on wheels. No matter what event you plan on renting this bus for, it's always good to consult with our party bus rental specialist about all of your options.
Dallas Party Bus Rentals makes the party bus rental process easy! We have the best limo bus fleet in Texas. All of our vehicles are great. Whether you are looking for a party bus to transport your wedding guests, prom date, or to take you and your friends around to all of your favorite bars downtown, we can help! Our office is operated 24 hours a day by our friendly staff who will help answer any questions that you may have about our services.
When it comes to party bus rentals Dallas Texas, you can't go wrong with the many options we have available. Our party buses are not only affordable but also very spacious and come equipped with all of the features you would expect in a first-class vehicle. From flat screen televisions and bars to bathrooms and dancing poles, no stone has been left unturned when it comes to customer satisfaction.
We have a 14 passenger party bus available for groups that don't need much space. It is perfect for small parties, corporate events or even just going out on the town. If your group is larger than that, then why not take advantage of our 22 passenger or 30 passenger party busses? With these larger vehicles, you will be able to fit friends and family comfortably, as well as several other people if necessary. What about groups that are even bigger? No problem! We have 40 passenger buses in our fleet as well as 45 and 50 passenger versions too!
If you are interested in learning more about party bus rentals Dallas TX then please feel free to contact us via phone or email today!
---
We also offer service in the Houston area. View all party buses in Houston.
If you're going to Louisiana, search our party bus rentals in New Orleans!