All About Reunion Tower Dallas Texas
Reunion Tower is a great place for tourists who want to visit a unique Dallas landmark. The view from the highest observation deck in Texas is amazing and must be seen to be believed. Reunion Tower is famous for the ball on top of it that is lit up at night and can be seen from all over town.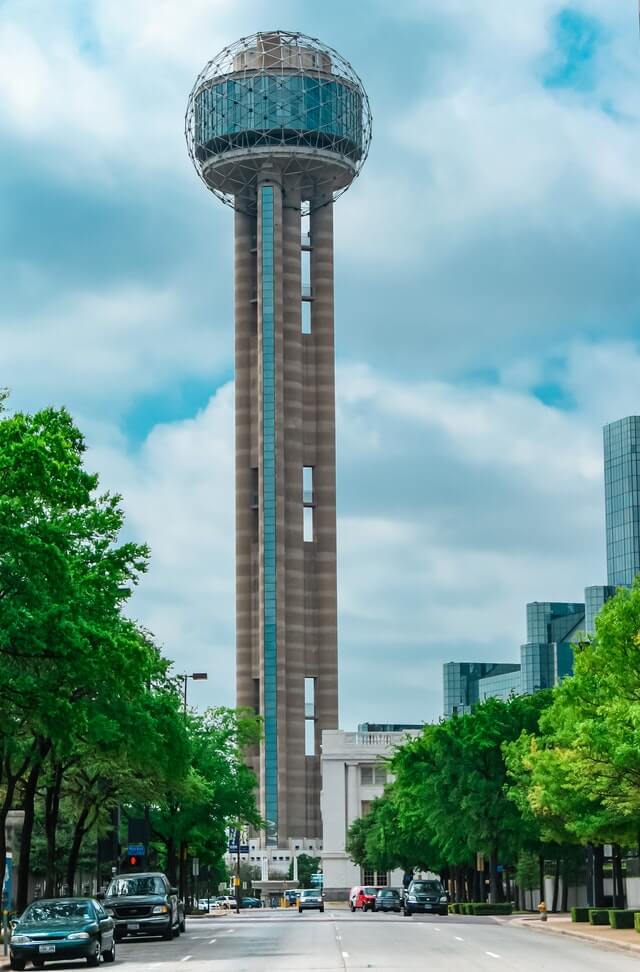 Address
Reunion Tower is located at 300 Reunion Blvd E, Dallas, TX 75207. The tower is adjacent to the Hyatt Regency Dallas hotel, which has a skywalk to and from Reunion Tower. There is an on-site parking garage that connects directly to the tower and can be accessed from both Young Street and Wood Street. The closest DART light rail station to Reunion Tower is St. Paul Station. It's about a 15 minute walk from the tower. The tower's location also provides easy access to other popular attractions in Downtown Dallas as it's within walking distance of the Dallas Convention Center, the Dallas World Aquarium, and the Museum of the American Railroad. Are you traveling with a large group? Consider a charter bus rental, perfect for medium to large sized groups. We service all major events, and common services such as weddings, birthday parties and more.
How to Get There
The quickest and most convenient option for Reunion Tower visitors is to drive, although there are parking fees. If you're driving to Reunion Tower from Grapevine or Downtown Fort Worth, take the 35E highway and turn left after exiting onto Reunion Boulevard. If you're driving from Plano, take the 75 Central Expressway toward downtown Dallas. After exiting onto Woodall Rodgers Freeway, turn right onto Olive Street. Take Olive Street until it turns into Field Street and then turn right on Young street and left on N Houston street. Finally, make a left on Lamar street and park in one of the many lots or structures nearby. Parking prices vary depending upon the time of day and whether you're visiting for a special event or a meal at one of the restaurants located inside the tower itself. Some events offer free parking but be sure to check in advance for prices if you plan to drive yourself. Most lots are open 24 hours per day, seven days per week, but some may have reduced hours during certain holidays such as Christmas Day (December 25). You can also visit Reunion Tower by public transportation routes including DART Light Rail (downtown area) buses or trams such as M-Line Trolley (downtown area). From either system's Union Station stop, walk north until you reach Main Street; then continue east past Marilla St until reaching Houston Street. Turn north (left) on Houston St., cross over Commerce St., turn right onto Lamar St., then right again at Reunion Blvd E which will bring you directly to the tower entrance; just don't forget your card Ready more fun? Be sure to check out Dallas Museum of Art
Hours
The Reunion Tower is a very popular attraction that attracts millions of visitors every year. Its hours of operation are: Monday – Thursday 11 am to 9 pm (GeO-Deck closes at 8 pm) Friday and Saturday 11 am to 10 pm (GeO-Deck closes at 9 pm) Sunday 11 am to 7 pm (GeO-Deck closes at 6 pm) The Wolfgang Puck restaurant and Cloud Nine Café open at the same time as the tower, but close an hour earlier. The Five Sixty restaurant opens for dinner every evening at 5:00pm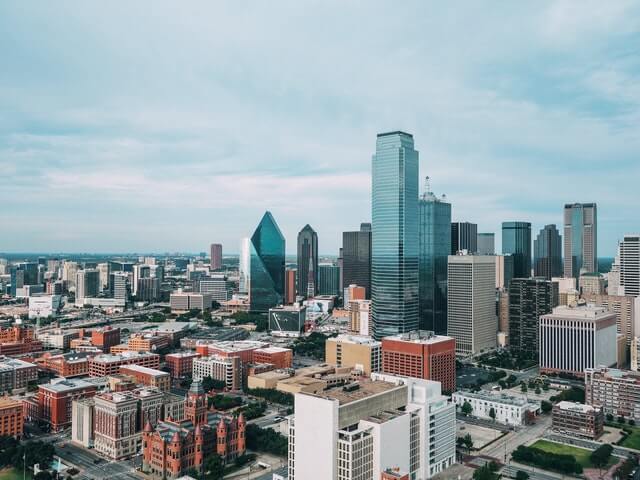 Prices
Admission to the GeO-Deck is $16.95 for adults and $12.95 for children ages 4-12; children 3 and younger are admitted for free. You can purchase tickets online or at the box office inside Reunion Tower. Once you get in, feel free to stay up there as long as you want! If you plan to visit more than once in a calendar year, consider purchasing a Passport To Your National Parks Annual Pass, which will grant you access to the GeO-Deck on the day of your visit plus unlimited visits throughout the year. The cost is $55 per person (plus tax), which pays for itself after just three visits—and there are so many reasons why we think it's worth visiting again and again! If you are planning a trip to the Dallas area, with a large group of passengers you can count on a Dallas bus rental to transport your group to your desired locations. Enjoy stress free group transportation with a coach bus rental perfect for 45-60 passengers.
The GeO-Deck
The GeO-Deck is the observation deck at Reunion tower, located 470 feet above street level.
It offers 360 degree views of Dallas from high up in the sky.
You'll be able to see all the city's major landmarks, including American Airlines Center and the Kay Bailey Hutchinson Convention Center.
There are a number of ways to experience the sites on this deck: traditional binoculars, a touch screen interactive telescope that can look 360 degrees around the deck to see all the landmarks in Dallas and a video theater with a 3D movie about Dallas history.
There is also an exhibit called The Story of Reunion that displays artifacts and more information about how Reunion Tower was created!
Special Events
The GeO-Deck is also open for private events. Many couples choose to get married on the observation deck that provides a breath taking view of the city. There are also many local companies that rent out the facility for corporate events as well. If you would like to host your next event at Reunion Tower, contact their sales staff at 214-712-7040 for more information.
The Cloud Nine Cafe and Five Sixty By Wolfgang Puck Restaurant
The Cloud Nine Cafe is a casual restaurant with a spectacular view of downtown Dallas. It offers diners the choice of either full service or a quick-service buffet. This Reunion Tower observation deck dining venue features an extensive menu, daily wine specials and some of the best views in all of Dallas from its second floor perch. The Five Sixty By Wolfgang Puck Restaurant atop Reunion Tower takes its name from the rotating floor on which it stands, completing one full revolution every 56 minutes. This fine dining establishment features Asian-influenced cuisine and an award winning wine list. In addition to offering fantastic food and drink, the restaurant also boasts breathtaking views of the city some 560 feet below.